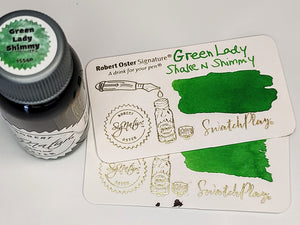 Robert Oster Shimmy Green Lady Fountain Pen Ink
Introducing the Robert Oster Shimmy Fountain Pen Ink Green Lady! Featuring a vibrant green hue, this 50 ml bottle will give you the perfect shade for all your writing and drawing needs. Its bright color will bring out the best in your work.
 It is recommended that you shake this ink due to the glimmer particulates. 
*Remember, ORDERS OVER $50 GET FREE SHIPPING!