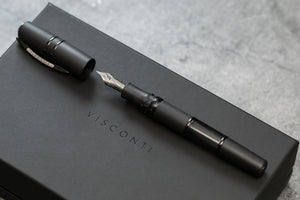 Visconti Homo Sapiens Dark Ages Fountain Pen
Visconti's Homo Sapiens Dark Ages pen is the perfect choice for those looking for a unique and sophisticated writing instrument. Crafted from lava from Mount Etna, this pen expresses a timeless elegance, pairing handsomely with any outfit or desk. Feel the power of the volcano in your hand with this beautiful work of art.
Free shipping in the U.S.
Note: Sometimes we have these in stock and sometimes we don't. We can get it direct shipped from our distributor so there is no delay. If you order other items you may get them in a separate package.